Hi Kedar!
Well … I don't think that programs, which are compiled with different compilers but are running simultaneously, compromise a systems stability. On my system the kernel and the programs are compiled with different compilers. The kernel is compiled with CodeSourcery, my programs are compiled with gcc4.3.3. They are exchanging data (through ioctl and mmap) and they are running stable.
The only thing you should care for is that your programs are probably linked to libraries. The libraries header files on your development system (like stdio.h from libc) have to be from the same libraries source as the compiled libraries on your ARM system (like /lib/libc.so). Or in other words, you will need a cross compile toolchain which offers you on the one hand library headers and compilers for your development platform, and on the other hand compiled libraries for your ARM system (see drawing). The CodeSourcery toolchain is such a toolchain.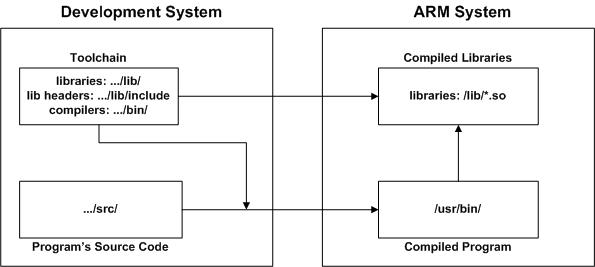 In theory you can use as many programs and libraries compiled with different compilers as you want. But for practical reasons you will use the compiler and the libraries from one single toolchain.
I hope this information is of some help to you.
Best regards,
Sebastian