I have an extremely time-sensitive application that is perfect for a PRU…communicating on a memory bus. However it requires bi-directional communication. And it was my understanding when I researched this years ago with the PRU_ICSS that to do this correctly, each pin would have to be doubled…one for input, one for output. And because GPOs can't be "disconnected", an external device would be required to sever the GPO pin from the actual bus during times when the PRU isn't transmitting on the bus.
The TI TXS0108E 8-Bit Bi-directional, Level-Shifting, Voltage Translator seemed perfect for this task since it can both level-shift between a 3.3v (BB) and 5v (the actual bus) domain as well as connect/sever the two via an enable-pin.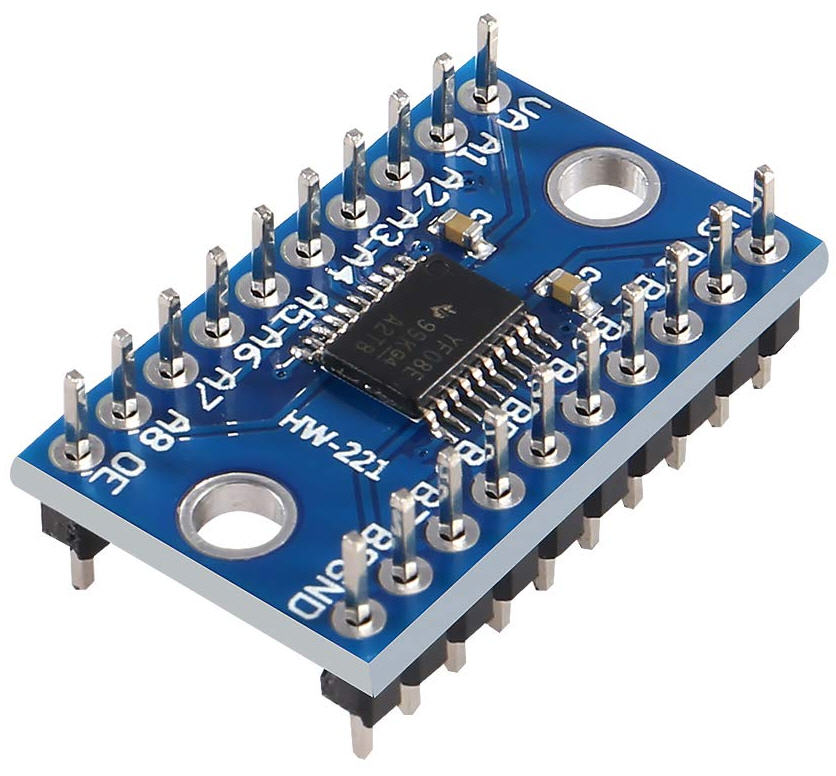 The downside is this takes up double the number of pins necessary to communicate on the bus. And given this bus is a parallel bus, there's 8 lines that require bi-directional behavior (a number of other control lines also need to be monitored, but don't require bi-directional control). Fortunately there's enough pins on the BB headers to accommodate this. But this limits the other peripherals that can also be used since so many pins are consumed.
When I started reviewing the BBAI-64 and realized it has the upgraded PRU_ICSSG, I decided to educate myself on the differences. Document searches led to TI training videos…one suggests that when a PRU is configured for GPO output, it now has the ability to put the GPO into bi-directional mode and control the direction via the PRU's DIGIO_DATA_OUT_EN register.
Youtube>Programmable real-time unit for gigabit industrial communication subsystem: cores, I/O & peripherals
The link should jump you right to ~3:30 (mm:ss) where this topic is discussed.
Is my interpretation correct that when using a PRU_ICSSG, GPIO pins intended for bi-directional COMs no longer need to consume 2 pins, and instead each GPO mapped to the PRU can be changed from output to input, on the fly, depending on whether the PRU intends to transmit or receive?
That certainly seems like what they are saying. But I thought maybe I better ask the question just to make sure there isn't more to the story and possibly get some references to where this is discussed, in more detail, in documentation.
More importantly, has anybody actually done something similar to this with a PRU_ICSSG and thus can affirm that this is, indeed, the case that GPOs can now be bi-directional?