Hello,
Currently, I am trying to interface a TB6600 stepper (microstep) driver to/from the BBBW. So far, I have used a lib. I found here: sysfs_pwm.py - Pastebin.com .
My source is this currently: configure PWM/GPIO for Motor - Pastebin.com .
I am using a Logic Level Shifter and a 12v battery to test things so far.
W/out the level shifter, I can make the motor turn in one direction only. Then, switching up some of the source can give, but only when the source errors out, the motor two different rotations which cause the linear movement to work one way and then the opposite way.
My main reason for trying these drivers…
Cheap and inexpensive
Some paperwork on them: https://dfimg.dfrobot.com/nobody/wiki/0bcc0b661ce7750ff7d0134bfc3e88b3.pdf
But…I still wonder:
a. How can I make the lib. along w/ the source make this motor listen?
b. Do I need two PWM channels and one GPIO?
c. I have tried two GPIO pins and one PWM pin (no go) and I have tried two PWM pins and one GPIO pin (works at times).
Anyway, any ideas on what I am doing that is incorrect could be helpful. I will keep trying. I also found this page online for wiring ideas: This is from dfrobot online at TB6600_Stepper_Motor_Driver_SKU__DRI0043-DFRobot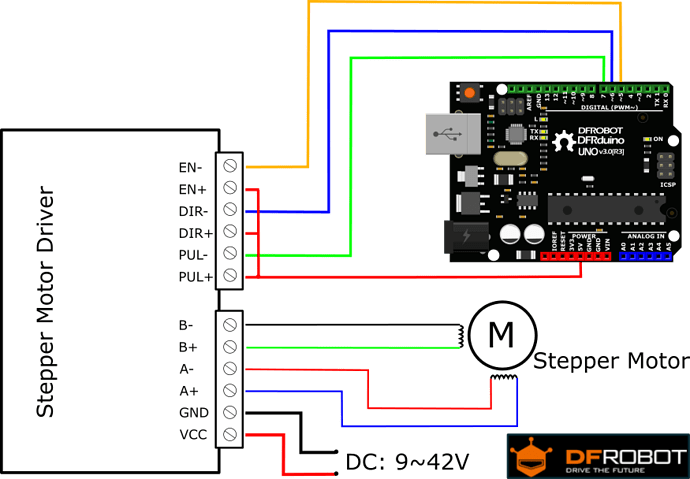 Seth
P.S. If anyone has ideas on wiring and/or source, please be my guest and jump on in!