Ah "marketing" it's "64-bit" so it "must" be "better"... Remember the
"X15" uses a Dual Cortex-A15, with the AM6x you 2 or 4 Cortex-A53..
If we look at this benchmark chart:
https://www.cnx-software.com/2015/04/09/relative-performance-of-arm-cortex-a-32-bit-and-64-bit-cores/
An AM6x based X15 would have to be quad, to even be "faster" then the
current AM5x X15..
The AM6x also doesn't have the the DSP or EVE, which are really the
best features of the AM5x/X15..
And yes, i do have an AM6x, i do think it'll be a nice part for TI,
i'm just sad at the removal of other IP blocks from the AM5x family..
Regards,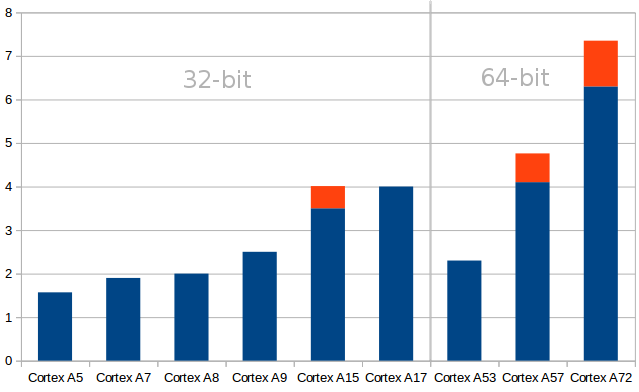 Interesting post on LinuxGizmos.com:

http://linuxgizmos.com/tis-first-64-bit-soc-debuts-on-linux-driven-phytec-module/

The text mentions possible upgrades to the BeagleBoard-X15 and the BeagleBone.
The question is: were this written by somebody of upgraders?