Just wanted to try to give them some BeagleBoard.org love…
http://www.kickstarter.com/projects/alphalem/rex-the-brain-for-robots?ref=card
Rex is a single-board computer with a full OS that was designed for robots. Combine Rex + Arduino for the ultimate robot!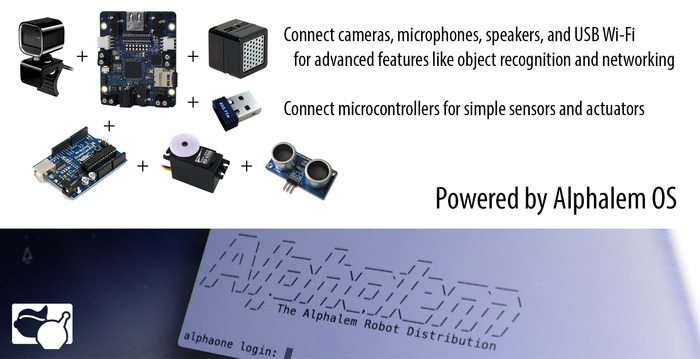 Check out the video! Visit our website: alphalem.com and follow us on Twitter.
The biggest leaps in robotics and AI will come from makers and enthusiasts building their own awesome projects and sharing their progress. Like PCs, robotics will rapidly evolve once it's in the hands of developers. With 3D printers becoming more accessible, a great development platform for robots is the next step. And that's what we set out to build!

Wired Enterprise - Out in the Open: Meet Alphalem, an Open Source Brain Just for Robots
Hack a Day - "It's an impressive bit of hardware, capable of speech recognition, and machine vision tasks with OpenCV."
TechCrunch - "In short, Rex has it all. It makes it easy to build great robot projects and, at about the same price as a few really nice stepper motors, the total cost isn't very high."
EE Times - "You have to admit that REX looks very, very tempting."
Phys.org - "Want to build a robot? Good. Want to add intelligence? Great. Two robotics innovators want to give makers an easy way to bestow brains on their robots."
Codeduino.com - "Rex is like a super love-child of an Arduino and a Raspberry Pi."